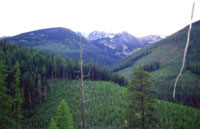 Hunt From Your Own Camp
We offer three fully stocked Montana hunting sites as basecamps for hunters who wish to hunt on their own. These hunting camps in Northwest Montana are fully equipped and furnished with floored tents, hot showers & outhouses. Clients provide food, sleeping bags and pads.
Our 'Drive-To' Camp is located approximately 3.5 miles off US Highway 2 along the Fisher River. The easy access and private setting of this hunting camp makes it an excellent base from which to hunt an unlimited amount of area offering virtually every type of terrain. This hunting site accommodates parties of 2 to 5 hunters.
One of our 'Pack-In' Camps is located approximately 5.5 miles from the trailhead in a vast, rugged, roadless area. From here you can hike and hunt in utmost seclusion. This camp accommodates parties of 2 to 5 hunters.
Our other "Pack-In" Camp is located approximately 6.5 miles behind the gate on a closed road. This area consists of gated roads and roadless areas accessed by trails.
All three of our fully stocked hunting camps are top of the line and equipped with:
10' x 20' cook/dining tent (can also be used for sleeping)
14' x 12' floored sleeping tent
5' x 5' shower with floor
Outhouse
An optional 8' x 10' wall tent if needed
Stoves, lanterns, cooking utensils, plates & silverware, paper products, drinking and washing water, firewood, cots, etc.
Clients need to supply only their own hunting licenses, food, sleeping bag, pad and personal gear.
All groups must apply for their elk - deer combination licenses as a party. Montana has a preference system for parties applying for elk & deer licenses on their own.
Find out more about: